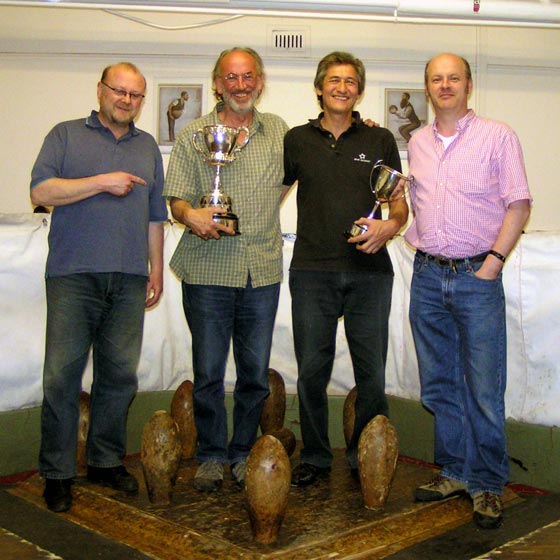 left to right: 2008 winner Steve Barnes; 2009 winner Guy Tunnicliffe; 2009 runner-up Steve Hutchinson; 2008 runner-up Peter Greene Full results (PDF)

The early stages, comprising a match point round, were dominated by Peter Greene with a -4 game to which only Steve Hutchinson could come close.

The two father and son combinations, Paul and Richard, Guy and Ellis both eventually resulted in wins for the fathers. Richard Robinson improved as the games went on and Ellis Sabey very nearly dashed the hopes of his dad. Paul drew Steve Barnes in the quarter finals and went down in a closely fought battle 2-1.

The semi finals were played with nervousness showing from all the players for numerous reasons.

Peter and Guy battled over eleven ends before squeezing out a result in Guy's favour; Steve Hutchinson beat Steve Barnes by one chalk despite four fours in his game. The final was tense. Guy had a lead of 3-1 after five ends. It was a lead that surprisingly remained to the end of the game, the last six ends being drawn.

Congratulations go to Steve Hutchinson firstly for turning up and secondly for playing so well in difficult circumstances.

Thanks also to those who organised the championships and ensured yet again that the alley was dry and clear of debris.